The Comedy Resistance is a nonpartisan, nonprofit organization that uses live events, local activism, and digital content and tools to inspire comedians and comedy fans to increased civic engagement via voter registration, Get Out The Vote campaigns, and ongoing activism to drive policy.
At live shows starring Bob Odenkirk, Patton Oswalt, Maria Bamford, Reggie Watts, David Cross, Mike Birbiglia, Judah Friedlander, Janeane Garofalo, Julio Torres, Chris Gethard, Jo Firestone, Hari Kondabolu, and more have already taken place in California, Georgia, Illinois, New York, and Texas. 
 A Brief History of The Comedy Resistance
MASKS FOR ALL (2020)
In our ongoing response to the COVID-19 pandemic TCR has mobilized its volunteers across the nation and has currently distributed over 40,000 washable, reusable face masks to our most vulnerable populations in the following cities.
– The unhoused community on the streets of Los Angeles, San Francisco, Austin, San Antonio, San Diego, New York City, asylees in Tijuana.
– TCR has addtionally provided PPE kits to protect our nationwide network of volunteers that have so courageously worked on the ground distributing masks during this pandemic
TCR's Masked Rider has delivered thousands of face masks to:
– Farm workers displaced by the wildfires in California
– Women's shelter in South Los Angeles
– Navajo Nation at the border of NM and Arizona
VOTER REGISTRATION and GOTV (2018 – present)
Organized voter registration and GOTV on over 100 comedy shows with headlining comedians  including Patton Oswald, Bob Odenkirk, Maria Bamford, David Cross, Julio Torres, Reggie Watts, Jeanine Garofalo, Natasha Leggero, Kristen Schaal and many others. We partnered with VoteWithMe, Headcount and over a dozen local orgs in swing districts across the country for the 2018 election but also ensured to set up infrastructure for local comedians and volunteer activists to connect within these cities, so that grassroots work continues beyond electoral engagement.
ASYLUM ADVOCACY (2018– present)
Began working in Tijuana, in support of Al Otro Lado, to protect members of the most vulnerable populations of migrants from the Central American caravan. TCR provided transportation and security in safe houses for dozens of refugees whose lives were in imminent danger. 
Once on this side of the border, the struggle intensifies for asylum petitioners. TCR has advocated for their pro bono legal representation, found them sponsors for their housing, food, medical relief and doctors, baby food and clothes. We have reunified families at airports, raised funds do they can relocate safely, and set up support networks of activists to support them in communities across the country. Concurrently, we are actively providing resources for volunteers in Central America who risk their lives to protect refugees and freedom fighters.
TCR members Sarah Silverman and Adam McKay have advocated on behalf of refugee families from Central America and Africa. Working with elected officials, activists, Al Otro Lado and our pro bono lawyers have together, against daunting odds, have helped these inspiring families gain full legal asylum.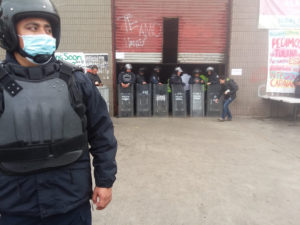 Immigrant Defense (2017-present)
TCR has distributed thousands of legal rights cards to the undocumented community to help preserve and protect their rights as global citizens.
Serves as volunteers on the KPA Rapid Response Team  – on 24 hour call – rushing to locations during ICE raids to protect the undocumented citizens by forming a circle around and walking them safely to their car, or home from work or from courthouse.   Also documenting in real time those aggressive and unlawful actions of ICE in order to help support those who are arrested during these raids so if they are incarcerated their families can be notified of their whereabouts in detention centers and jails, and so the process of finding legal representation bail funds can begin.
CLINIC DEFENSE (2017 – present)
Continuing weekend actions in which TCR has volunteered to help LA for Choice to protect women's reproductive rights against violent anti-abortion protesters outside a family planning clinic in Downey, California, escorting women safely into the clinic.