COMEDIANS AND COMEDY PRODUCERS:
We produce The Comedy Resistance headliner showcases, events, voter registration drives, GOTV efforts, and fundraisers, and we hope we get to work with you soon!
For comedians, producers, venues, and festivals who are already producing, touring, and hosting shows, below are some tools to help inspire and activate your comics and audience. We can also help promote your TCR-activated show with retweets, original posts, etc.  Please get in touch first so we can plan and make sure you have what you need.
Our goal is to keep audiences engaged past a one-time action so we have ongoing efforts to drive TCR membership and anyone can help with that! The main flow is to get audiences (live and online) to text RESIST to 555-888 to The Comedy Resistance then we will send ongoing resources for Voter Registration, Get Out the Vote, and other fun stuff. CHECKVOTE to 555-888 will reply with a link to register to vote or check polling places. GOTV to 555-888 will reply with a link to the VoteWithMe app to help users connect with friends to encourage them to vote. Anyone and everyone can do this online, from stage, or using the additional graphics below, or make your own (and share with us!)
More resources and content to come and we welcome your creative contributions big and small.  If you would like to help us take videos, write for twitter, do a social media takeover, etc. let us know!
For social media efforts, please tag us and use #thecomedyresistance #GOTV #resist #vote #restorethevote, etc.
Instagram: @thecomedyresistance
Twitter: @ComediansResist
FB: https://www.facebook.com/comedyresistance/
TCR LOGOS: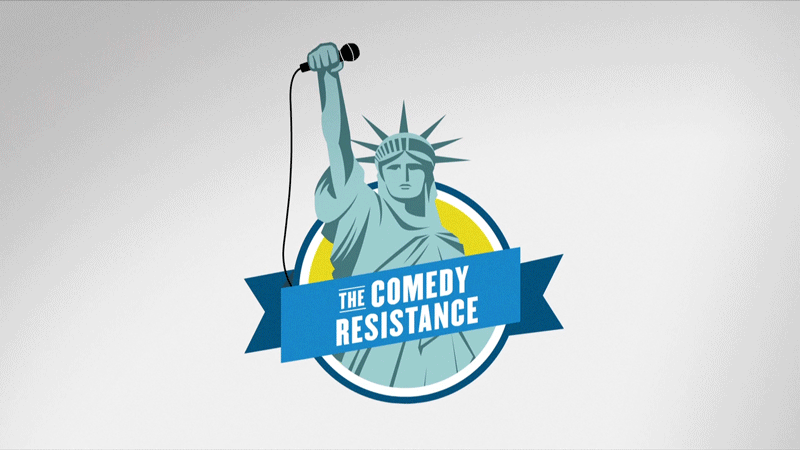 TCR POSTERS
8×11 poster: PDF JPG:
11×17 POSTER PDF JPG:
11×17 POSTER SPANISH JPG:
Twitter image
TCR-TX Team Leader Adam Weightman made this HOW-TO DIY sandwich board for their pop up comedy show and voter registration events.
---
SLIDES FOR PROJECTORS AND LOBBIES
Join TCR video (animated gif coming soon)
Voter Registration by Text:
Here is a SLIDESHOW you can run before your show or on your website to get your audience registered and check their polling place.
Here is a one-slide you can download and use for projector, lobby screens, social media, or whatnot.
---
LOGO:
SLIDE/POSTER/SOCIAL MEDIA: